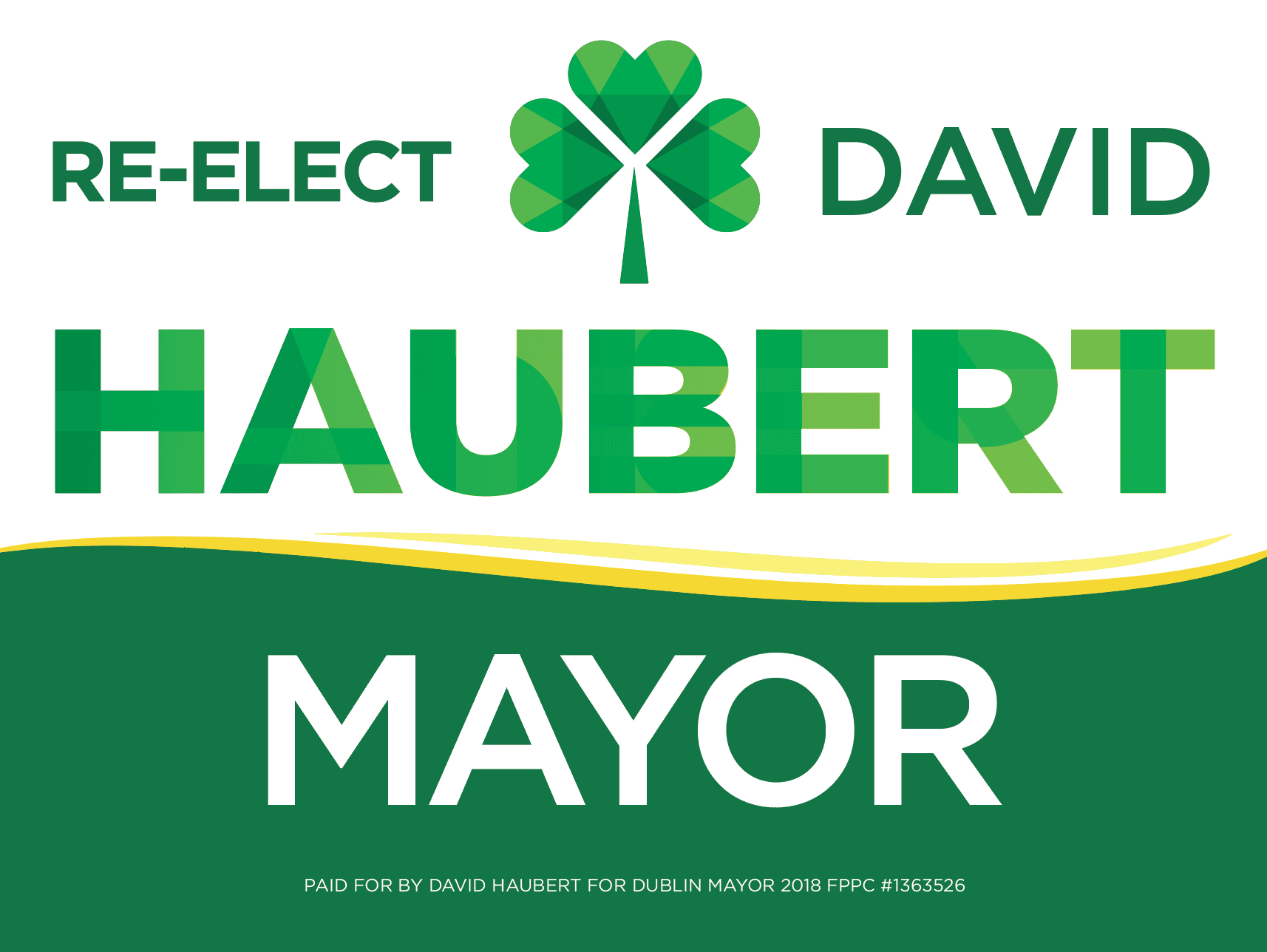 FOR IMMEDIATE RELEASE
August 28. 2014
Contact: David Haubert
Phone: (925) 719-8735
Regional Leaders Back David Haubert's Campaign For Mayor
Dublin, CA— City Councilman David Haubert has earned the endorsement of three Dublin Unified School Board Trustees in his campaign to be the next Mayor of Dublin. The supporters include: President of the Board, Sean Kenney, and fellow Board Trustees Greg Tomlinson and Dan Cunningham.
"David's experience in both the private and public sectors will provide our City with a well-rounded, experienced leader who holds the success of our community at the forefront of his decision-making," said Kenney. "I'm proud to endorse his campaign."

For over a decade, Haubert has publicly served the City of Dublin and its residents. First elected in 2002 as a Dublin Unified School Board Trustee, Haubert was subsequently elected in 2006 and ran unopposed in 2010. His leadership on the board and commitment to the education of Dublin's youth helped to increase student test scores 10 years in a row, ensure balanced budgets, and provide students access to state-of-the-art technology.

"As a father to three children, our public education system and the environment in which our kids learn on a daily basis will always be a top priority," said Haubert. "I'm honored by the support that I have received from former colleagues so early in the campaign process. I believe their support exemplifies just how deep my commitment runs to the education of our youth and the overall success of our community."

Haubert's commitment to the City of Dublin and its residents goes further than just his commitment as an elected representative. Over the years, he has served on numerous boards and commissions, including the Alameda County Local Area Formation Commission (LAFCO), Anka Behavioral Health Inc. Board of Directors, Hope Hospice Advisory Board, and the Easter Seals Bay Area Finance Committee.

"As our City continues to expand, our next Mayor must have an in-depth understanding of public policy that permits the region to capitalize on opportunity while preserving the characteristics of Dublin. There is no doubt in my mind that this person is David Haubert," said Dan Cunningham.

As a Dublin City Councilman, Haubert has sought to reduce housing density where appropriate, and also encourage and attract economic development through innovative programs and initiatives.

David Haubert and his wife, Michele have been married for 22 years, they have three daughters.