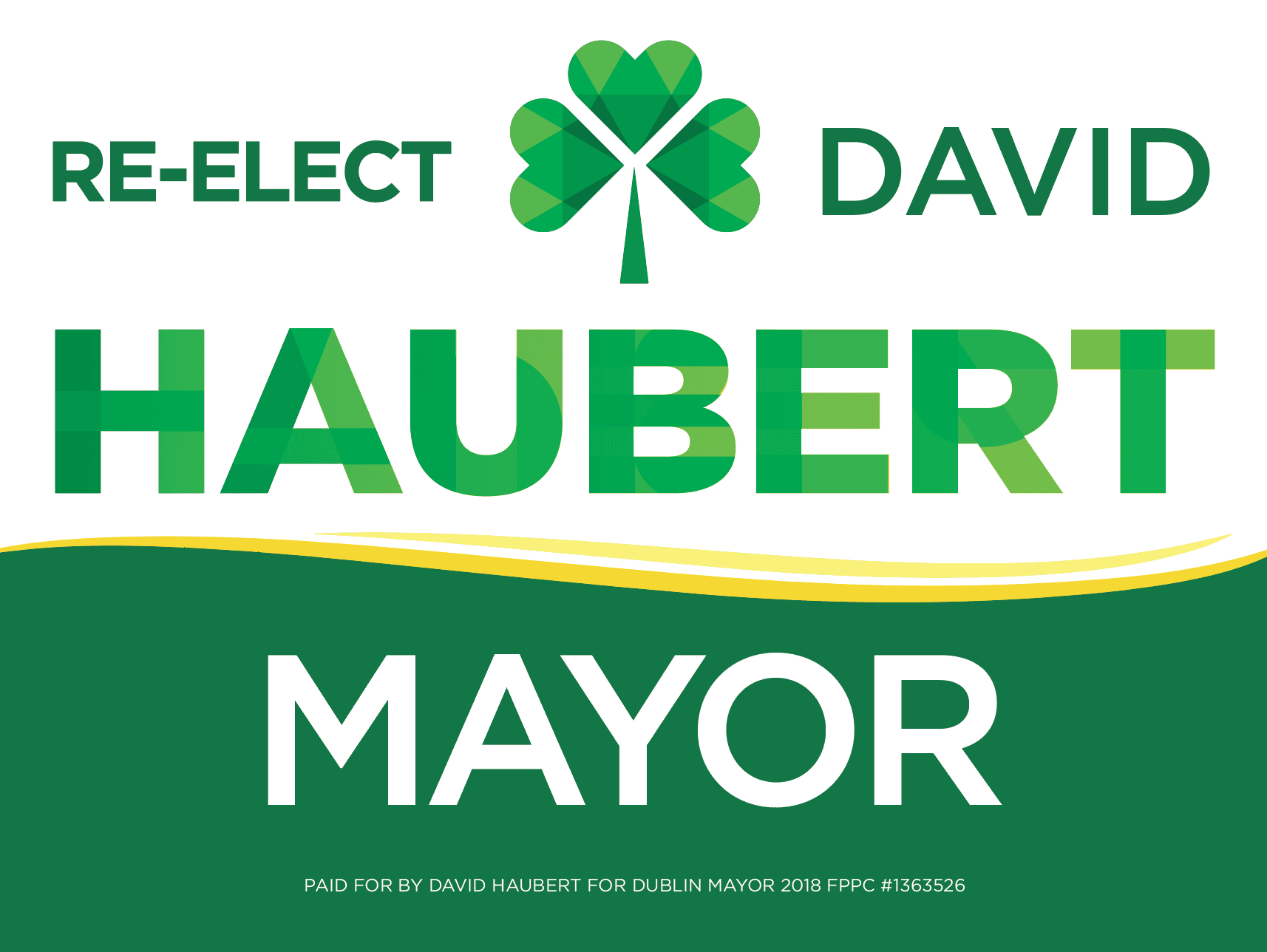 FOR IMMEDIATE RELEASE
October 11, 2014
Contact: David Haubert
Phone: (925) 719-8735
Regional Leaders Back David Haubert's Campaign For Mayor
Dublin, CA— Today, small businessman and Dublin City Councilman, David Haubert has earned the endorsement of three prominent local leaders for the East Bay region. Jerry Thorne, Mayor of Pleasanton; Bill Clarkson, Mayor of San Ramon; and Robert Storer, Mayor of Danville, have all given Haubert the nod in his campaign to succeed the termed out Sbranti this fall.
"Whether it's economics, preservation, or education, Dave has demonstrated the ability to address issues in a pragmatic way that has the best interests of Dublin's residents at the forefront of his decision-making," said Jerry Thorne.
The oldest of six children that was born into a military family, David Haubert learned at an early age that dedication and cooperation were the keys to success. Throughout his career as both a small businessman and public servant for the City of Dublin, Haubert's commitment to various organizations as well as his ability to work with colleagues has underlined his success.
"Strengthening the community of Dublin and providing opportunity for our residents will always be my priorities," said Haubert. "But no City reaches its full potential unless it has leaders that think on a regional basis. That's why it is such an honor to receive the endorsements of Mayors Thorne, Clarkson, and Storer."
Over the years, David Haubert's regional leadership has been demonstrated in both his profession and his role as a community leader. He has served as a State Delegate to the California School Boards Association, President to the Tri-Valley Special Education Local Plan Area, and Board Member to Hope Hospice, Easter Seals Bay Area, and Anka Behavioral Health, Inc.
"David will provide the City of Dublin with a commonsense leader," said Bill Clarkson. "I am pleased to support his campaign, and I look forward to working with him when he is elected Mayor."
During Haubert's time as a Trustee for the Dublin Unified School District Board, the District was able to balance budgets while avoiding teacher layoffs, increase student test scores on a yearly basis, and enhance student participation within the community.
David Haubert and his wife, Michele have been married for 22 years, they have three daughters.
To learn more about David Haubert, visit: www.DavidHaubert.com